US Government English Access Program ( RELO )
Home
» US Government English Access Program ( RELO )

US Embassy - English Access Program , Amritsar , Punjab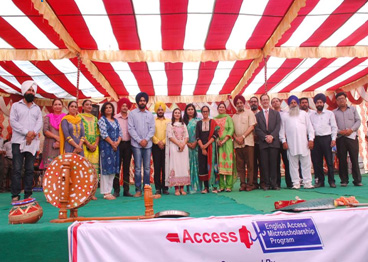 The Nanhi Chhaan Foundation in partnership with the Regional English Language Office of the US Embassy, New Delhi, have started the global English Access Micro-scholarship Programme for 100 underprivileged students of the Government High School in Qila Jiwan Singh village, Amritsar, Punjab. Participation certificates signed by the US Ambassador have been distributed at the inaugural event by Dr Bradley Horn and Mr. Harpal Singh, Chairman, Nanhi Chhaan Foundation.
Imparting of quality education is a challenging task for countries around the world. Many countries, including the US, face the problem of imparting quality education to its students. To some extent it also depended upon the socio-economic background of children.
Through this programme Nanhi Chhaan wishes to prove that children with whatever background despite their humble upbringing can gain quality education. The importance of English communication skills for higher education and better job prospects to the assembled students has the first step undertaken by Nanhi Chhaan in the village.
The selected students are receiving two years of free after-school English language classes along with personal development through the US State Department-sponsored initiative, popularly known as the access programme.
Chairman Nanhi Chhaan Foundation Mr Harpal Singh said, "We at Nanhi Chhaan are pleased that this programme has been launched in collaboration with the American Embassy at our adopted village - Qila Jiwan Singh. I urge all participating students, particularly girls, to make optimum use of the course to enhance their communication and leadership skills, which will help them access higher education and better opportunities."
Access is a global scholarship program supported by the U.S. Department of State that provides a foundation of English language skills to talented 13-20 year-olds from economically disadvantaged backgrounds through after-school classes and intensive sessions. Access seeks to equip selected students with strong English language skills that can lead to better jobs, educational opportunities, and gain the ability to participate in and compete for future exchanges and study in the United States.
Nanhi Chhaan Foundation running the program for students from marginalized section of the society. Keeping a ratio of 60:40 for Girls and Boys , keeping in mind the Nanhi Chhaan's cause for empowering the Girl Child.