Nanhi Chhaan National School Essay Contest
Home
» Nanhi Chhaan National School Essay Contest

The Nanhi Chhaan Foundation ("Nanhi" is how little girls are endearingly referred to and "Chhaan" is shade/protection) is a not-for-profit organization, set up with the objective of addressing three important issues on the social agenda of the country namely, the adverse gender ratio (and women's empowerment), preservation of trees (and environment protection) and lack of inter-faithharmony (promote secularism and saving humanity). The Foundation's aim is to evoke action at a national level by raising awareness and undertaking advocacy activities on the above mentioned issues.
In support of this agenda, the Foundation started National School Essay Contest in 2014, to encourage thinking and debate amongst school children on important and emerging social issues.
The Nanhi Chhaan National School Essay Contest (NSEC) is a national competition envisaged to be convened on an annual basis - a first of its kind initiative by Nanhi Chhaan. It is an advocacy platform with the aim of spreading awareness on important social issues amongst relevant audiences. Within this larger ambit the objective of the programme is:
To be the leading 'social' competence platform for schools in India
To be scalable in format and allow for maximum participation in a fair, transparent and competitive atmosphere
To be sustainable in terms of its ability to extend its reach with audiences on a continued basis
To have current relevance of 'topics' being discussed
To have financial viability based on collaboration and self-sustenance
To be outcome oriented in outlook
The scope of the essay's are to be defined by addressing matters around some of the important issues on the social agenda of the country, some of them being
Protecting & empowering girls and women
Tackling environmental degradation and
Promoting inter-faith harmony. For the first year, the topic selected was 'Dowry is illegal and immoral
NSEC has elicited a tremendous response from the Indian schooling network in its third year with an outreach to over 1500 schools across 24 state in the country and has achieved a national exposure for students and schools that entered the final round. The topic for this year's National School Essay Contest was 'Gender equality is the only way forward'.
NSEC Over the years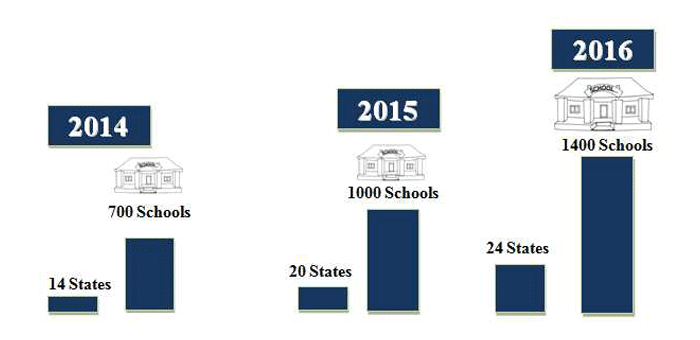 NSEC Prize & Contest details
Parameters
Particulars
Periodicity
Annual
Language
English
Participants
10th & 11th Grade students (as on 1st April of academic year ) of participating schools Submission Format
Submission Format
All essays for submission will be written 'on the spot' (for both rounds)

Print: Times New Roman font size 12
Word Limit : 1000 words (2-3 pages)
Maximum Time limit : 120 minutes (2 hours)

Prize Details
Total prize

School Level - Rolling trophy for the champion's school & Individual trophies to the winners

First Prize - cash prize of Rs. 1 Lakhs for the student, Rs. 50,000 for the school and Rs. 50,000 to a cause (registered NGO) of the student's choice.

Second Prize - cash prize of Rs. 50,000 for the student , Rs. 25,000 for the school and Rs. 25,000 to a cause (registered NGO) of the student's choice

Apple I- Pads For Top 10 Winners

5 days Personality Development Programme for selected finalists at the NIIT University, Neemrana, Rajasthan, of which 5 students will receive a sponsorship grant for a 2-years course at the university

Certificates of Participation to finalists & Position Certificates for winners
Nanhi Chhaan National School Essay Contest Partners