Our Girls, Our Pride Campaign by NDTV 26th October 2013, Saket, New Delhi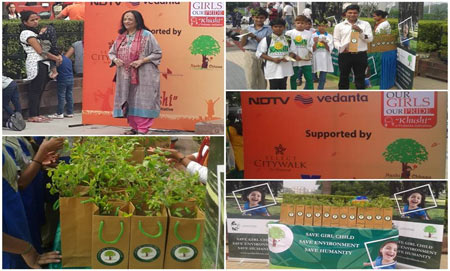 This campaign aims to create awareness about issues related to the girl child with Priyanka Chopra as the ambassador
The Select City Walk mall, Saket was agog with activity as the NDTV and Vedanta – Our Girls, Our Pride took center stage on Saturday, 26th of October. Nanhi Chhaan was the partner NGO in Delhi for the event held on 26th October between 10am to 2pm.
NDTV had set up 2 locations in this mall to garner maximum footfall. First at the Graffiti Wall – where they took up one side of the basement parking and got talented artists from Wall Book to paint on the theme " Our Girls Our Pride". This will be on display for a year. Second was at the entrance courtyard outside, both great locations generating huge footfalls. In the courtyard, NDTV also conducted a painting competition for school students, and gave winners exciting prizes. A Live band and an Emcee was in attendance to keep the audience entertained.
Nanhi Chhaan put up a sapling stall where our banners and standys were placed. 300+ saplings were given out to participating students and children along with Nanhi Chhaan leaflets in English and Hindi. Info packs for a selected few VIP guests were also given from the venue.
It was a good awareness opportunity as being a Saturday and due to the Diwali rush, huge footfall was seen at Select Citywalk, Saket. This event was covered Live on NDTV and also packaged for the weekend show. Please find below a link to the coverage for the same.